Charles Levin
Served from 1973 through 1996
Charles L. Levin was born on April 28, 1926 in Detroit, Michigan. The Levin family is well known in Michigan politics. Levin's cousins, Sander Levin and Carl Levin, both represented Michigan in the United States Congress. His father Theodore Levin was Chief Judge of the U.S. District Court of the Eastern District of Michigan.
Charles Levin received his B.A. from the University of Michigan in 1946. He also received an LL.B. degree from the University of Michigan Law School in 1947.
He was admitted to the Michigan Bar in November of 1947. Levin joined the New York Bar in June 1949, the District of Columbia Bar in October of 1954, and the Bar of the Supreme Court of the United States in 1953. Levin is also a member of many different law organizations including the American Law Institute, the American Bar Association, the State Bar of Michigan, the Detroit Bar Association, the Association of the Bar of the City of New York, and the American Judicature Society.
His career in public service began in 1966 when he was elected to fill a vacancy on the Court of Appeals. Levin was then elected to the Michigan Supreme Court in November of 1972 and began his service in 1973. Upon his investiture on the Court, John Feikens said, Levin "comes to the Bench blessed with a solid education, and in my view he possesses two of the necessary qualities of a good judge; intelligence and compassion." Levin retired from the Court in 1997. (Michigan Manual: Ed. 1995 – 1996. Lansing, Michigan: Legislative Council, State of Michigan.)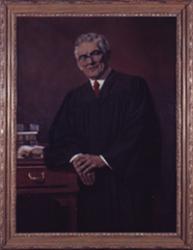 Justice's Name:
Charles Levin
Years Served on Court:
1973 – 1996
Portrait presented on:
May 6, 1999
Portrait Artist:
Maniscalco, Joseph (completed in 1997)
Medium:
Oil on canvas
Dimensions:
30″ X 40″
Owned by:
State of Michigan
Current location:
Hall of Justice – 6th Floor:
Justice Megan Cavanagh's Suite
Portrait photo by:
Douglas Elbinger – 1998